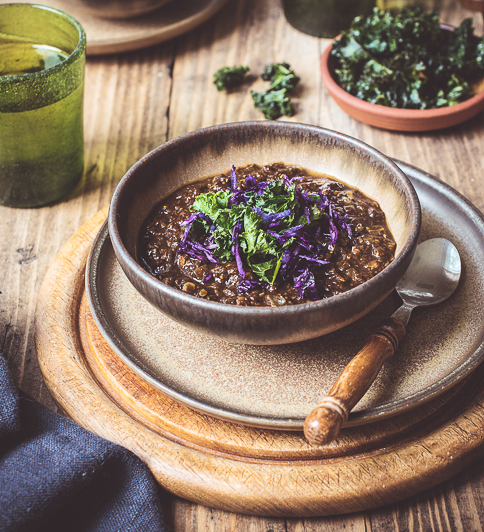 Chaga Mushroom, Red Lentil & Ginger Soup with Red Cabbage & Crispy Kale
This Chaga Mushroom, Red Lentil & Ginger Soup with Red Cabbage & Crispy Kale Recipe is the perfect combination of nourishing and flavorful ingredients. The soup is hearty and filling, thanks to the protein-packed red lentils and the earthy Chaga mushroom powder, which is a powerful superfood known for its antioxidant and immune-boosting properties. The ginger adds a warm and spicy kick, while the red cabbage provides a beautiful pop of color and a crunchy texture. And to top it all off, crispy kale leaves are scattered on top of the soup, giving it a satisfying crunch. This soup is not only delicious but also easy to make and perfect for a cozy weeknight dinner or a lazy weekend lunch.
Ingredients:
2 tbsp olive oil
1 onion, chopped
2 garlic cloves, minced
2 tbsp grated ginger
1 cup red lentils
6 cups vegetable broth
1 cup chopped red cabbage
1/4 cup Chaga mushroom powder
Salt and pepper, to taste
2 cups chopped kale leaves
2 tbsp coconut oil
Instructions:
Heat olive oil in a large pot over medium heat. Add onions and sauté until they become translucent, around 5 minutes.
Add minced garlic and grated ginger, cook for another minute.
Add red lentils, vegetable broth, chopped red cabbage, Chaga mushroom powder, salt, and pepper. Bring to a boil, then reduce heat to low and let it simmer for around 20-25 minutes, until lentils are fully cooked and soft.
While the soup is simmering, preheat the oven to 375°F (190°C). In a large bowl, toss kale with coconut oil, salt, and pepper. Spread the kale in a single layer on a baking sheet and bake for 10-12 minutes, or until crispy.
Once the soup is ready, blend it until smooth with an immersion blender or in batches in a regular blender. Adjust the seasoning if necessary.
Serve hot, garnished with crispy kale.