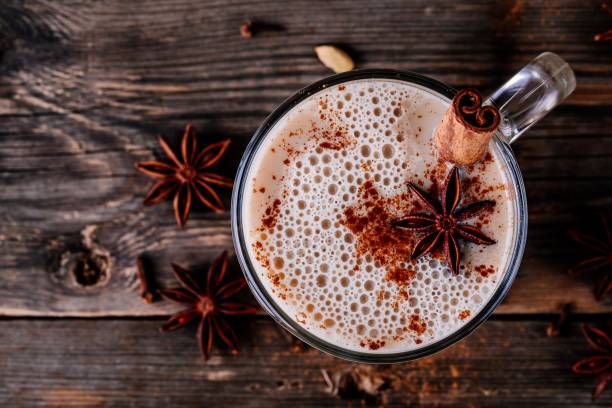 Chaga Cinnamon Bliss Elixir: Maple Symphony in Almond Harmony
Step into a realm where the rich earthiness of Chaga Mushroom and the sweet warmth of Ceylon Cinnamon waltz together in a dance of flavor. In this elixir, we've harnessed the enchanting powers of Chi Chaga Chaga & Ceylon Cinnamon Tea bags to create a potion that transcends the ordinary. Imagine the comforting embrace of almond milk, the amber hues of maple syrup, and the aromatic allure of Ceylon Cinnamon converging with the wild richness of Chaga Mushroom. This elixir is not just a beverage; it's a journey through a forest of flavors, where every sip carries the whispers of ancient trees and the sweetness of maple sap. Brace yourself for a symphony in a cup, where each element plays a unique note, harmonizing to create a melody that lingers on your palate. Welcome to the Chaga Cinnamon Bliss Elixir — a sip of nature's harmony.
Ingredients:
2 cups water
1 cup almond milk
2 tablespoons maple syrup (adjust to taste)
1 teaspoon ground Ceylon Cinnamon
Optional: A sprinkle of Chaga Mushroom powder for an extra earthy kick
Instructions:
In a saucepan, bring 2 cups of water to a gentle boil.
Remove the saucepan from heat and immerse the Chi Chaga Chaga & Ceylon Cinnamon Tea bags. Let them steep for 5-7 minutes, allowing the Chaga and Ceylon Cinnamon to infuse their magic.
While the tea is steeping, in a separate saucepan, gently warm the almond milk. Be cautious not to bring it to a boil; we want it warm and comforting.
Once the tea has steeped, remove the tea bags, gently squeezing to extract all the goodness.
Pour the Chaga Cinnamon tea into your favorite mug, then add the warmed almond milk.
Stir in the maple syrup, adjusting to your desired level of sweetness.
Sprinkle ground Ceylon Cinnamon over the top, and if you're feeling adventurous, add a touch of Chaga Mushroom powder for an earthy depth.
Give it a gentle stir, and behold the swirls of flavors coming together.
Allow the elixir to cool slightly before savoring the symphony of Chaga, Cinnamon, almond, and maple on your palate.
This Chaga Cinnamon Bliss Elixir is more than a drink; it's a celebration of nature's bounty in every delightful sip. Enjoy the journey!